I can not believe we are already half way through the second week of January.  Time flies! I can barely keep track of the day, let alone the date. But I do know it is What I Ate Wednesday – the perfect mid-week treat!
Thanks Jenn.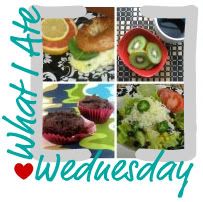 This week I was determined to make a change and stop the vicious cycle of snacking and eating sugary junk. I keep trying to do it, but I slip up and then give up. But not this week. This week, I am eating more small meals throughout the day, full of fiber and protein, so I stay full longer and reduce the urge to snack.
My Tuesday eats started with a cup of coffee. I truly enjoy starting my day with a big cup of joe.
I made some overnight oats after reading Julie's post on how to make them. I have attempted to make them a couple times and failed miserably. I thought I would give it one more try before I gave up, and it worked! They were really good. Surprisingly good.
In the mix: 1/3 cup oats, 1/2 almond milk, 1/4 cup Chobani. I put all this together the night before and let it sit. The next morning, I mixed it together and added some raspberries. It was so good, I made it again the next morning.
I had an apple for my mid-morning snack.
I had lunch and caught up on the news! I ate a whole wheat wrap with Alfresco Chicken Sausage, lettuce, cucumbers and mustard.
I had non-fat cottage cheese for a mid-afternoon snack. I like to add some black pepper to the cottage cheese for some extra flavor. Yum.
For dinner, I made some homemade 3 Bean Turkey Chili. Soups, stews and chili are so easy to make and the perfect lunch or dinner. One recipe makes up to 10 servings, you can't beat that!
This chili was delicious, I could of had multiple bowls! I will post the recipe later this week. It was so quick and easy. It literally took less than 20 min. and will last me for several meals.
On top of eating better, I have also been exercising and incorporating strength training more.  I have also been following along with the Tone It Upchallenge. Part of their program requires you to get up, every morning and move for 30 minutes. Monday I went for a run and Tuesday I did yoga. The early morning exercise gets my blood flowing and keeps me going for the rest of the day.
It's important to stay hydrated when working out so much. It keeps your metabolism going, helps flush out all the toxins that accumulate and moves the nutrients through our system.  I wrote about it earlier this week and Katedid a great write up about the many benefits of staying hydrated.
This leads me to my GIVEAWAYYYYY!!!
I have mentioned it before, but I love drinking Vita Cocococonut water. Vita Coco's an all-natural, super-hydrating, fat-free, cholesterol-free, nutrient-packed, potassium-stacked, mega-electrolyte coconut water! Which is why, I want to give a lucky reader a case of Vita Coco coconut water!
That's right folks, 12 16-oz cartons of coconut water! It is the perfect pre-workout, during workout, or post-workout drink!
So do you want to win your own case of Vita Coco coconut water!?
To enter leave a separate comment for each!
Follow me on Twitter @comfyconfident
Tweet the following: "Win a case of @vitacoco coconut water from @comfyconfident. Click over to http://ow.ly/8ptjZ for more details."
Comment on this post and tell me your favorite time to drink Vita Coco.
Vita Coco does not know I am doing this giveaway, I simply wanted to share my favorite hydrating drink with all my readers!
The Giveaway ends Thursday January 19th and will be announce Friday morning.